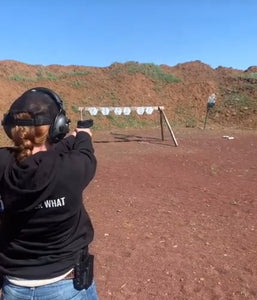 August 3
Regular price $150.00 Sale
Want to get your kid or kids firearms experience, but don't know where to start?
Maybe you don't have the equipment suited for a youth shooter…
This 1 day (approx. 4hrs) Introduction to Firearms Youth Only Class is specifically designed for youth ages 10-17 who are new to firearms.
It is also great for youth who have never been around guns, but have never had formal training.
We will instill firearm safety, fundamentals, and proper use of the sights and trigger. Students will obtain experience shooting pistol and rifle starting with air-soft or blue gun, and working towards live fire. Equipment and ammunition will be provided, and is included in the cost of the class.
Our goal is to educate the students about firearms, to ensure responsible firearm use and ownership.
Parents presence on the range is required. Please bring a chair and shade tent if desired, and watch the show.
Class curriculum;
Safety brief and Medical plan
Firearm and Range safety
Effective shooting stance
Proper weapon grip
Using iron, magnified, and/or electronic optics – Pistol and Rifle
Trigger control
Manipulation of your firearm platform
Loading – Reloading
Live Fire – All live fire will be conducted one-on-one with an instructor
Recoil control
…and more
Class is capped at 10 students
Cost – 150.00 per student